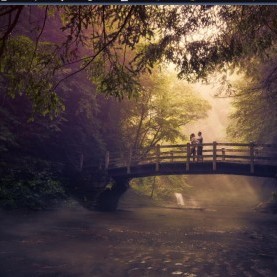 The Box of Tissues
A disabled women copes with her lover going to War.
0
Romance / Women's fiction
---

"Here my love, don't cry! Hold on to these, promise you won't shed more tears than one of these each day,do not be overcome with worry! I will always come back to you." He gave her the box of tissues as she kissed him goodbye.

As he left in the car, his uniform medals shone through the window.

She felt herself sigh, why must he leave her for another twelve months?

She wheeled herself around to get on the deck so she could watch him leave on the main road. If only she could run to the porch instead of having to wheel herself up the long ramp.

She couldn't walk as long, as she could remember; but oh how she dreamt of it! To be able to stroll down the sidewalk with her boyfriend as he held her hand, instead of being pushed.

At least she could change herself, and live on her own. She giggled to herself as she waved goodbye on the porch, she would of had no problem getting into the army if it wasn't for her legs, for she had so much upper body strength that it was the reason her mother and father allowed her to move out.

True, she couldn't drive, but she had hired a butler to drive her around, and because her mother wouldn't let her buy her own house without someone to watch over her, just in case.

She held the tissue close, if only Don could stay and watch over her.. This would be his last tour, but it hurt all the worse, because instead of six months it would be twelve. Her heart ached just thinking about it.

She wheeled herself inside.. She was too exhausted to go to the store today.

She clutched the box of tissues, and wheeled herself to the window. She told her butler to move the sleeper sofa by the window, From there she could see her love return.

She never left that spot.

Sleep finally overtook her at night.

She awoke out of her haunted dreams to see the sun, as it raised up from the ground, Oh how she loved the sun, it was something her and Don shared.

She reached for the first tissue and to her surprise it had words written on it. "Do not fret about me, I am always safe in your heart."

She smiled. I must be strong she thought. Day by day she would wake up and watch the sunrise, read her beautiful note, and pray for her lovers return. She sighed thinking of it. How could she ever return such a loving gift? She closed her eyes.

She would write replies! That way when he came home he would be able to read them, and she would date them so he could read them on the days she wrote them. She wheeled herself to her study and pulled out a notebook, inspired by this new will to live.

She wrote the date with glee and started her reply;

"My heart then is a joyous place."

She smiled through the tears falling, but at least they were of joy.

And that is how she spent her twelve months writing to him in her notebook. A week before his return, a visitor knocked upon her door.

Telling her dear butler she would get it, she wheeled over. But yet; upon opening the door, she was handed a letter, she knew what it meant without even reading it.

That letter tore her joy, she started crying..

Her butler rushed to the door, and dismissed the man in the uniform.

He picked Sally up and carried her to her bed. she cried through all the tissues but one that night. Her parents came to try to ease her pain, she refused it. It was the only thing that she lived for, pain. She hated it, but also welcomed it.

She stopped getting out of her bed. Strong? No, she was no more without her heart. On what would've been the day of his return home she cried out.

"You promised me you would come back to me! My life had become a lie. Why….."

She reached for the last tissue, but couldn't reach. She willed herself out of bed to her wheelchair. Grabbing the box gently as possible, she placed it upon her lap, grabbing the last tissue she forced herself to read those last words he had written to her. "My love, I am coming to my home today! For you I wish to be my wife. I love you always. You are my heart."

She cried as she looked into the tissue box to see a ring.

She raised her hands to her face forgetting she had placed it upon her hand. The wind took it and when she looked to see where it landed, she screamed. For there her beloved Don stood with the tissue in his hands. His eyes were full of tears as he wiped them. His head had wrap upon it. He walked to her and picked her up. He would never leave her again. He picked up the box of tissues.

"Good thing I had a spare pack inside here."

Competition: June 2015 Pen Factor, Round 1
Read Reviews
Review 1:
Compelling hook?

Fresh?

Strong characters?

Entertaining?

Attention to mechanics
You demonstrate a professional quality of writing throughout the story.
Narration and dialogue: Balance
Your story struck a good balance between narration and authentic dialogue.
Narration and dialogue: Authentic voice
Your characters' voices were convincing and authentic.
Characterization
Make sure your characters are multidimensional. Do they have strengths and weaknesses? Mere mortals make the most interesting stories because they are like you and me and we are able to empathize with their journey. That's how the connection with a character is formed.
Main character
Your protagonist exhibited a unique voice and had original characteristics. Their actions and dialogue were convincing!
Character conflict
The reader's experience of the story is heightened when the characters' goals, conflicts and purpose are clear. Perhaps giving this aspect of the story further attention could be worthwhile.
Plot and pace
Maintaining the right pace and sustaining the reader's interest is a challenging balancing act. The story had a clear and coherent progression with a structured plot. A truly absorbing story!
Suspense and conflict
The joy of reading often lies in the element of suspense prompted by internal or external conflicts. The build-up was intriguing and I felt the tension mounting with each word.
Technique and tight writing
When writing is tight, economical and each word has purpose, it enables the plot to unravel clearly. Try and make each individual word count.
Point of view
Point of view helps the reader identify whose perspective we are engaging with, i.e. who is narrating the story. It can sometimes be helpful to double check that the point of view in the story is successfully handled. Ensure you consistently use the same point of view and tense throughout, either: a) First person; b) Third-person limited; or c) Third-person omniscient.
Style and originality
I loved your fresh approach. Creating a unique writing style while maintaining quality of prose requires both skill and practice. Impressive.
Atmosphere and description
Your story was a feast for the senses. The atmosphere wrapped itself around me and transported me onto the page alongside your characters.
Authentic and vivid setting
The scene needs to be vivid and realistic in order to hold the reader's attention. Being concise and plausible at the same time is tricky. Giving this further attention could perhaps be worthwhile.
Opening line, paragraph and hook
Your great opening was a promise of wonderful things to come. I was hooked!