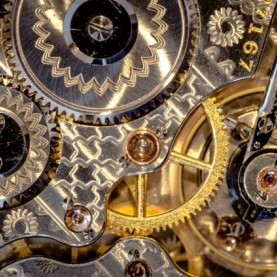 Messy Memories
For a fee, Allen will transport any criminal's memory out of their brain and into his own.
1
Fantasy / Sci-fi
---

Holly Riordan (United States)
"I'm going to get another glass," Val said. "Do you want red or white this time?"
One of my eyes flapped open to stare at her. Her black robe fell off of one shoulder, revealing the gears on her collarbone. If it was possible to reach my pinpricked arm over to deactivate her, I would. She always got chatty during procedures. She thought if she nagged me enough, I'd stop inviting patients into our house, stop filling my brain with 'filth,' stop helping humanity with my work—the work that paid for our ten acres of land and her upgrades to get that realistic, tight, juicy body...
"Allen, do you want more wine or not?" she asked, louder this time.
Her voice disturbed my patient, even in her unconscious state, causing her to jump. No, not jump. It was more like an orgasmic pulse that ran through her entire body. Hard to explain. After three years of preforming the same procedure, I should've been an expert on all-things-medical, but memory was a funny thing.
Of course, it paid the bills.
"Give it a few more minutes, Val. I'm just about to wrap this thing up," I said, closing my eyes again. The tube I'd plunged into the nape of my neck an hour earlier finally heated up, giving me my cue to begin. That same tube ran across the room, into a computer I had already programmed, and then over to my eighteen-year-old patient. She rested on her stomach, her head stuffed into a hole like a massage client ready for a backrub. She had opted for the anesthesia, so the memory transfer operation (MTO) would only make her feel a little numb. I'd be the one stuck with all the pain.
Grinding my molars, I let my cheek press against my leather chair and my left hand grip onto the armrest. My right hand, which had been holding a circular remote, pressed against the only button until it clicked.
I kept my eyes closed, but I could picture the ghostly vapor spill from my patient's brain and pool into the tube. I imagined it pushing its way toward my head and slithering into my mind.
My lips separated as my throat tried to vomit up something it couldn't quite find. Ninety-seven successful procedures and I could never find a cure for that gagging. Couldn't find a way to stop the twitching either. Of course, the mental pain always overshadowed the physical.
After a few seconds of intense burning in my head and throat, the memories appeared. I could see a man spread eagle on a bed, blue boxers and matching socks the only thing keeping him covered. Dark blood spit from a wound in his head like a grimy water fountain. I smiled down at him, a screwdriver held in my clenched fist, and I used it to make more holes in him. To cause him as much pain as possible before he finally faded away. When he took his last breath, I wept.
They were once my patient's memories, but now they belonged to me. They felt as genuine as the memories of my childhood felt—if what I was remembering was actually my childhood. My real life got twisted up with my patients' like a vine that catches onto a fence and claims it as its own.
I reached for the tube in my head and unscrewed it until it came off with a strong POP. Valerie had an entire bottle of Merlot in her hand, but she used the other to grab a bandage and secure it on my neck.
"You're out of your mind," she said, her curls shaking with her head, but she grabbed my forearm to help me stand.
I wobbled at first, but managed to make my way over to my patient and remove her end of the tubing. It would be a while until she woke up, and she had already paid me the grand she owed me, so I planned to nap. Or maybe have some fun with Val.
I grabbed her waist and tried to pull the knot from her robe, but she raised the wine bottle as if she would hit me. She wouldn't.
"I'm helping people," I said, knowing exactly why she was so moody. I snatched the bottle from her and popped it open.
She blinked. "It's dangerous."
"I'm fine."
"I'm not talking about you." Her eyes shone as if tears wanted to drop out of them. I wished I'd never installed that function. I hated overly emotional women. "Did you even look at your schedule? You have another patient in an hour. And guess what? They're a Repeat."
I drank straight from the bottle, glowing as the taste hit my tongue. "That's a rarity and you know it."
"Oh stop justifying it." She grabbed a thick notebook from the table behind her and read from it. "Edward Hunam. He came in just six months ago to have you remove the memory of him trying to drown his teenage daughter in her kiddie pool. This morning? He calls up and tells me he needs the memory removed of him killing that same poor girl. Used a knife this time. Real bloody. Whose fault is that?"
I shrugged, resting the bottle on a counter. "You know what I do to Repeats. They walk through my door and they get a bullet."
"Maybe you should be the one taking the bullet," she mumbled, but when I asked her to say it again, she dropped her robe.
Aside from the outlet glittering on her collarbone, she looked like any other woman—except wrinkle free and void of stretch marks. I reached for a clean bandage to place over her mechanics, but she grabbed my wrist. Her other hand pushed against my chest, forcing me to back up until my shoulder blades thumped against a wall. Still drowsy from the operation, I let her pin my arms above my head.
I preferred when she took control, anyway. My ex-wife looked to me for the answers to all her problems: Al, what should we watch tonight? Al, what should we eat tonight? Al, do you want my legs wrapped around your waist or your head tonight?
…Did she even say Al or was it another name? Another person's memory?
Valerie's lips skipped across my neck like a pebble on water, distracting me for a few blissful moments until my brain filled back up with blood. "You taste delicious," she said, leading me to the bedroom and pushing me onto the sheets (but all I could think of was grabbing my sister, plucking out her eye, and tearing off the lid). "We don't do this enough anymore." (Then there was the time I rigged my boss' car to explode, not knowing his baby would be in the backseat). "Are you okay? Did I trigger it again?" (What about when I manhandled my son until his neck snapped and the bone squeezed out?).
I shoved Val off of me and heard her fingers crack when they hit the floor. Dead kids were always the worst. Whenever those memories hit, I scrambled for a needle. Heroin wouldn't destroy the thoughts, but it would act as a broom, sweeping them under the rug for a few hours.
"Where'd you hide my dope?" I asked, but Val's only response was rustling. She was still on the floor, trying to pull something out from under the bed. When she popped up, she tossed a scrapbook onto my lap. I groaned. The woman thought she was a damned therapist.
"Not again," I said, sliding my hand through my long, greasy hair. "The headaches are coming back."
She sat down next to me and knocked on book's cover. "That's why you need this."
Competition: June 2015 Pen Factor, Round 1
Reviews
The reviews for this submission haven't been published yet.