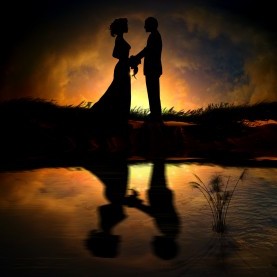 A Stone's Throw
After Librarian Alicia Fairmont's husband, Peter, dies in a tragic accident, Alicia travels to Cobble Cove, New York, the small town where her husband grew up. Searching for relatives or people who might have known Peter, she discovers secrets that have been hidden for many years. Teaming up with John McKinney, the publisher of the local newspaper who has also suffered a terrible loss, Alicia must solve the mystery connected with her husband's death as well as those hidden in John's family.
0
Crime / Suspense / Mystery / Thriller
---

Piles of mail stood on the desk in her office. Elsewhere, there were more piles - dishes in the sink, laundry in the wash room, unfinished manuscripts by the computer, and leaves in the backyard. It was the beginning of November, a bright fall day on Long Island, but Alicia had no desire for the long walks she used to take with Peter at this time of year, no desire to do housework or any work at all for that matter. She knew the doctors would label this depression, but Peter had been gone six months already, his death a tragic accident, and because they'd had no children, she was alone with her grief. Her own parents had died years ago, and all she knew of Peter's family was that he had a mother and an older sister, but she had never met either of them. She had only one close friend from the library where she worked, but how much could you rely on a friend, especially one who had not experienced the death of a spouse?

As she stood barefoot in her office with a suitcase by her side, she contemplated what she planned to do to pull herself out of the funk into which she'd fallen. She was planning to take a trip to the small, upstate town where her husband was born. They'd never visited there together, and he'd never spoken much about it except to say that Cobble Cove was a backwards town that he and his parents moved away from when he was 10 and his sister 17. To her, it sounded charming. She imagined the village with its quaint post office and library, one-room school house, spired church, and town green. It would be even lovelier this time of year with the autumn leaves scattered along its paths.
Alicia had taken a leave of absence from her current job at the Queens Library that had stretched from six weeks to over six months. Although the main reason for this was to help her recover from her terrible loss, a deeper reason was that she was no longer happy at her job. Having worked there full-time as a reference librarian for 17 years, it was time for a change. But at 42, she was too young for retirement, her attempts at selling some novels she'd penned had failed, and Peter had never felt a need to take out an insurance policy to support her if anything happened to him.

She wondered if anyone in Cobble Cove knew Peter or his family. Even though Peter and his sister had not been close, had, in fact, stopped talking to one another years before she married him, it still seemed odd that Peter hadn't kept her address. There was no one from Peter's family Alicia could contact. Only their co-workers and her friend Gilly attended the funeral. Peter had requested cremation, so there was no casket. Her last memory of him was when he left for work early that misty May morning taking his usual one-mile jog to his office. When she got the call a few hours later, she was horrified to hear what happened. He had been a victim of a hit and run. The police speculated that the driver of the car had not seen Peter running in the fog.

Even though she had no children or pets, Alicia still needed to make arrangements for her trip. She called her friend Gilly who she hadn't spoken to in over a week. Gilly only worked part-time at the library, so Alicia thought she might be at home.
She was relieved when her friend answered the phone. "Alicia, are you okay? I've been worried about you."
"Sorry I haven't called. I haven't wanted to bother you. I know you're so busy with the kids." Gilly had three young boys who kept her running from baseball to soccer to martial arts events.
"Nonsense. I always have time for you. What's up? Have you made an appointment with Dr. Phillips?" Dr. Phillips was the psychiatrist that Gilly saw regularly to deal with the issues from her divorce five years ago. She had recommended him to Alicia to help her overcome her depression.
"No, but . . ." She paused, "I'm going upstate to Cobble Cove for a few days, and I was hoping you could look after my house."
"You're going to Peter's old hometown. Is that wise?" Gilly was always skeptical and even more so since she found out Frank had been cheating on her during her pregnancy with their youngest son.
"It isn't exactly Peter's home town. He lived most of his life on Long Island. He only spent a part of his childhood there."
"Even so, running away isn't the answer, honey." Alicia could hear Gilly's washer in the background tossing a batch of the boys' clothing.
"I'm not running away, Gilly. You might say I'm taking a breather from things. Look, I know you're busy and will be going to work soon. Say hello to everyone at the library for me, but please don't mention anything about my coming back. I haven't made up my mind about that yet. I'll give you my key before I leave so you can check my house, but I'll probably only be gone a few days. I'm leaving next Friday."

"Okay, Alicia. Keep in touch. I'll see you before you go if not sooner. Take care of yourself, honey."
During the next week, Alicia kept busy for the first time since Peter's death. In preparation for her trip, she managed to tidy up the house and even took a trip to the library to return some unread books that were overdue. Her fines were waived, of course, but many of her colleagues at the library asked her when she would be back. She didn't know how to answer, so she just told them she would try to be back soon.
```
On the morning of November 20, after breakfast, Alicia went for a walk. Gilly lived just a few blocks away, and Alicia stopped at her house to drop off a copy of her key. Gilly's Beagle greeted her at the door; the smell of baking rich on the air.
"Hi, Alicia. I'm making chocolate chip cookies for Danny and Joey's boy scout troops," Gilly explained when she answered Alicia's knock. "Come on in. You can have some." She was nibbling a cookie as she opened the door. Gilly was dressed in a sweat shirt and pants covered by a Christmas apron with a large Santa Claus face although Christmas wasn't for another month. A tray of just-baked cookies lay on her kitchen counter cooling. "I can put on some coffee for you, too."
"No, please don't bother," Alicia said. "I just wanted to drop off my key. I've already had breakfast."
Her friend furrowed her dark eyebrows. "You can use a few more calories, unlike me." She chuckled. Gilly was not fat, but she could afford to lose a couple of pounds. Her whole body was round including her face which gave the impression of a cherub. She was shorter than Alicia which was part of the problem. Both women were in their early forties.
"Go on. Have a seat," Gilly insisted as she pulled out a chair from the kitchen table. She placed a few cookies on a paper plate with a holiday design. Ruby, her five-year old dog, sat begging below the table.
"Now stop that, Ruby," Gilly commanded in a not-too-harsh voice. Alicia had a suspicion Gilly secretly fed the dog some cookies even though chocolate was not good for dogs. Ruby had come as a puppy from the North Shore Animal League a few months after Gilly left Frank. The boys adored her, and she was Gilly's fourth child.
Once Alicia relented and took the offered seat, Gilly sat next to her and grabbed another cookie. She looked Alicia in the eyes. "Tell me what's going on, honey. What is this trip all about? Is it safe?"
Alicia sighed. She couldn't return her friend's gaze. "I'm just going to visit Peter's childhood home. I'm thinking I may find some people who knew him or his family. Maybe I can find his mother and sister."
"Oh, sweetie." Gilly put her hand over Alicia's. "I know you're still hurting, and it takes time to get over a loss like you had, but this isn't going to help. Why don't you come back to the library? Everyone misses you."
"Not now." Alicia felt the warmth of her friend's hand. Hers felt cold in comparison. "I think I just need to get away for a bit."
Now Gilly was the one to sigh. "I understand. Just be careful. I'm here if you need me. How far is the drive to Cobble Cove?"
"It's a few hours, I think. I Mapquested it. It's in the Catskills."

Competition: June 2015 Pen Factor, Round 1
Reviews
The reviews for this submission haven't been published yet.