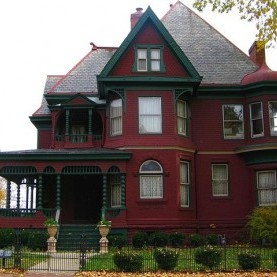 The House on Redhill Corner
Asha-lee has grown up in a house of chanting, incense burning and her mother declaring that everyone needs 'to cleanse their spirit.' She turned from a young child willing to appease her mother to a young lady who wanted nothing else but to be like everyone else. When strangers enter her life Asha refuses to acknowledge the possibility that she may be able to help them in their quest for knowledge and peace. A story of a young lady's struggle between reality and another world.
2
Romance / Women's fiction
---

Candice sobbed, 'My life has ended. Jack left. Asha, what'll I do?'
My response was automatic, 'Don't worry, we'll cleanse your spirit and you can start afresh.'
The worst part was I started towards the cupboard holding the incense sticks, candles and crystals before I realised what I was doing!
As I pulled a half-used candle from the drawer, I took in a huge gulp of air. The candle fell to the floor as my hands clasped my face. I stood still. Fireworks were going off in my brain.
My friend ran after me as I shouted my way through my mother's home to my bedroom. 'No! I'm not Lalita. I'm not! Damn!'
I started throwing underclothes onto my bed. 'I've got to leave,' I said as I glared at Candy.
She gripped my arm and shook it gently. 'It's all right, Asha. Really, it's okay.'
My body trembled. I stared at the socks scrunched up in my hand. 'But Candy,' I offered her one orange sock, 'I don't want to be like Lalita. I have to leave.'
With Candy's help I regained my equilibrium and calmed down. I couldn't go anywhere right now, but I did start some serious planning and some equally serious mind searching.

Two

Mr Cantronelli greeted me at the doorway to an old house on the corner of Redhill and Trowling. His mouth opened, and when his teeth threatened to be displaced his lips quickly sucked them back in so he could form a smile.
'Good afternoon,' I said cheerfully, eager to get off on the right foot with my potential landlord.
'Yes, good afternoon, Miss.'
'I've come about the flat. The one with the sign in the window. Is it still vacant?'
'Of course. The little flat, it is vacant for some time. Come, you see.'
We trundled up the flight of stairs bound by an enormous wooden balustrade. When we reached the first floor he stood for a moment to recover his breath. 'Not like youngster any more.' His gravelly voice broke into my thoughts, which had been soaking up the ambience of the place.
'How old is this?' I asked.
'My goodness, let me think of it.' He flapped his crinkly fingers in front of his face, took in a long breath before saying, 'I live up street forty-five years ago. It then a big family place; was orchard in yard. The old orange tree by front door is only tree left. Twenty years they change it. I think it a shame. But there you go. Today everything be for money. They make old rooms into these flats and here you go.'
After battling with numerous keys clipped to a long chain, he jiggled the brass key into the lock and stood back waving his hand in the direction of the empty room. As I entered, the large windows and ornate ceiling decorations charmed me.
'Wow! It's really nice.'
'This room be the old drawing room. It is lovely, no?'
'Oh yes, it is definitely lovely. When can I move in?'
'You sure?' His intense gaze made me look away. 'You very sure?'
This repeated question bothered me. 'What's wrong with this place? Why wouldn't I want to move in?'
'No, no, nothing is wrong.' He fiddled with the keys and looked at the floor. I waited. 'People rent this place and then they move out. I not know why. I just ask if you be sure.'
I glanced around the room again. The alterations to the old home were noticeable, giving an odd appearance to what would have once been an elegant room. But peculiar places don't bother me – I'd lived with meditating cushions sitting next to the television; dream catches holding shopping lists.
Mr Cantronelli shrugged, 'You like, you can have. Rent is very good price.'
I nodded and held out my hand. 'I'll take it. It's perfect.'
He ignored my hand, but grinned and led me through to the bathroom. 'You check first, please.'
The tour didn't take long. The large bedroom had an old wardrobe in the corner. The carpet seemed newly cleaned. Evidence of a good scrubbing marked a small stove and the narrow pantry would be adequate for my needs.
I didn't mind if other people had disregarded this little place, it already welcomed me with its unmatched appearance and its attempt to fit in with the modern buildings next door.
The delicately carved handrail of the old staircase clashed with the pine doorframes. I'd noticed the architraves were incomplete, but the beige paintwork in the hallway looked fresh. The individually painted doors of each flat made me smile. The ochre coloured door which Mr Cantronelli now leaned against, reminded me of gravel.

Two days later I moved in. Determined to add colour to the interior generic white-on-white I purchased several large posters and stuck them to the walls. My new bed linen created a peaceful ambience of aqua and cream.
I travelled light and it didn't take long before my best friends, Candy and Matty, and I had my meagre number of boxes scattered over a floor rug Matty's mum had donated.

Candy had forgiven me for walking out on her tears – we had grown up together. She understood.
The Hardwick's lived in the property adjoining our back fence. A central makeshift gate in a row of crooked pickets had survived despite the promise of better construction. Candy and I found it easy to live in one another's pocket. Even their dog used the two backyards.

Three

My mother, with her newly chosen name of Lalita, was nineteen when I was born. She blessed my arrival with the burning of incense of myrrh and chanted a prayer to the universe as I lay squawking my lungs out. The nurse came running when she smelt something other than the hospital strength disinfectants that usually permeated the rooms, and tried to make Lalita Angelsea "stop all this nonsense and get back into bed".
'Goodness and light, goodness and light,' Lalita continued to chant while the nurse dowsed the incense stick and literally pushed the new mother in the direction of the neat white bed.
The two other new mothers in the ward protested. One clutched the sheet to her nose and demanded Lalita be moved. Agreeing on this request, the other woman rang for reinforcements.

The atmosphere of contradiction continued as my mother instructed me on a life of spiritual enlightenment.
My father apparently saw that his particular light needed to glow elsewhere and disappeared from the face of the universe. I never saw a photo or heard tales of him. Any question I uttered in trying to find the other half of my creation met with systematic garbage. I quickly realised it was easier to stop asking questions.
I learnt to meditate by the time I was five, although I suspect I did a lot of daydreaming as sitting cross-legged on a second-hand shagpile rug, surrounded by a dozen candle flames, became monotonous.
During my pre-teens I tried to please the person who had been born Lorna Underwood, learning how to tell the difference between a spell for cleansing the room and one that promised to cleanse the soul of a believer.

It had been high excitement for weeks leading up to my tenth birthday after my mother promised me my first party. We invited six girls from school, along with Candy and Matty, and much to my delight they all replied in the positive.
I doubted my popularity amongst my peers, as I had been the target of derision on many occasion. Having a mother send her child to school with notes that read, "Please excuse Asha-lee from sport today as her aura is fragile," made me a sitting duck. A rather stupid teacher announced this repartee to the class and thereby enable my detractors to have one more reason to chant the usual non-melodic phrase, "Asha-lee, Asha-lee, how are thee? Asha-lee, Asha-lee even you, have to pee!"
When I arrived home in tears, Lalita lovingly cradled me in her arms and offered to make it better with a special herbal tea and a lavender infused balm to rub into my throbbing head. This made me fling her arms aside and run from her lap, finishing up in my bedroom where more tears drowned my pillow.
The opportunity to see firsthand the curious world of Lalita's was probably the drawcard for the invited children. I didn't care; I was delighted, and eagerly crossed the days off my calendar.
On the appointed day I tried to make our home normal. As fast as my mother placed candles and quaint dishes of oils around the room, I removed them.
'For goodness sake child, how can we improve their beings if we leave things as they are?'
I snatched a bunch of sage from her hand. 'Can't we just have it like everyone else's for one day?'
'Honey, I just want what's best for you.
Competition: Friendly feedback, Round 1
Read Reviews
Review 1:
Compelling hook?

Fresh?

Strong characters?

Entertaining?

Narration and dialogue: Authentic voice
Your characters' voices were convincing and authentic.
Main character
Connect us to your main protagonist with a deeper characterization. Could your protagonist have a few more distinguishing character traits?
Plot and pace
Maintaining the right pace and sustaining the reader's interest is a challenging balancing act. The story had a clear and coherent progression with a structured plot.
Style and originality
I loved your fresh approach. Creating a unique writing style while maintaining quality of prose requires both skill and practice.
Opening line, paragraph and hook
Your strong opening was a promise of wonderful things to come!
Review 2:
Compelling hook?

Fresh?

Strong characters?

Entertaining?

Attention to mechanics
You demonstrate a professional quality of writing throughout the story.
Narration and dialogue: Authentic voice
Your characters' voices were convincing and authentic.
Character conflict
Your characters drew me into their world from the very beginning. Their goals and conflicts were clearly conveyed.
Authentic and vivid setting
The setting was realistic and vivid. The characters' mood and emotions were conveyed successfully through the believable setting.
Opening line, paragraph and hook
Great stories, nowadays, start with a powerful opening line and compelling hook in order to keep the reader engaged. Have you baited the reader enough?