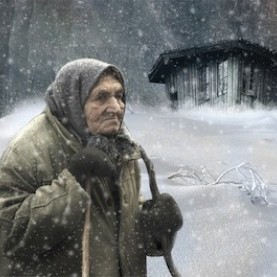 Barb LaFang
Greetings from the darker side of the afterlife. I didn't really expect demons with pitchforks, but Hell was such a surprise! Still, a good lawyer always adapts to the challenge. Then I met Barb LaFang...
0
Fantasy / Sci-fi
---

Kenn Brody (United States)
Barb LaFang

I later found out her name was Barbara LaFang. I met her last week in, well you know, one of those bars. Business had been great and I wanted to celebrate. Honest, I had only a couple of drinks when she walked by my table.

Besides, I hadn't been dead very long.

The bar was dim, the drinks watered down, and the thing they called a Martini tasted like piss and turpentine. What do you expect in Hell?

I was a Plaintiff's Attorney, and there are plenty of uses for that kind of thing down here. Not that you ever got justice, that is not a quality of these spaces, but in twenty-five years of practice as a tort lawyer, the differences weren't that much.

It was uncanny how she tracked me down through the crowd like a hound dog on a scent. She was old, frail, and dowdy, in along gray skirt and a white, starched blouse that came up to her skinny neck with a lace accent. I made a bet she was once a county tax collector that loved to foreclose on the family farms. She carried a clipboard. In that bar she stood out like a sore thumb.

"Louis Grinot, I believe. I am LaFang. Please call me Barb. You will now have your official survey interview." She sat down, prim as a matron in a whorehouse.

"Ms. LaFang, I'm already working as an attorney."

"We have an excess of those, Mr. Grinot. There are more demanding jobs available. And LaFang is my occupational title, not my name." She pulled out a large ballpoint pen with a plastic devil's tail attached. "This is my 'fang', Mr. Grinot, and I prefer red ink. Now, please sign this form."
The form said, "Infernal Revenant Selection, form 999 - this form will take no more than ten drops of blood, per Section 666 (i) (2)".

I was used to that, at least. At the bottom was her stamp, Barbara LaFang. I had heard rumors.

"Mr. Grinot, did you steal and sell your sister's coin collection to pay for a drug party for your friends? Please answer, "Own Up", or "Deny"."

"What? I deny! I would never do a thing like that!"

She flipped to a back page. "October 2, 1984 at 4:30 PM. Subject Grinot took the coin collection from his sister, Jeanine, age 9, after promising to invest it and bring back more coins, especially a 1909 VDB penny that she wanted. Subject promptly delivered it to a pawnshop for 60% of its value. Subject then purchased ten bags of sensimilla marijuana and four grams of cocaine from a street vendor known as Jocko. Do you recognize this now, Mr. Grinot?"

I have been famous for my hard-hitting courtroom cross-examinations that make a saint look like a common criminal. I was known as the lawyer that could make Attila the Hun cry at a deposition. This woman had me completely outclassed.

"Own up or deny, Mr. Grinot," she repeated, in exactly the previous tone, with that slight downward curl of contempt on her bloodless lips.

"Where are you getting this information?" I temporized.

"From the Akashic Records, of course. We are very thorough at the IRS. Own up or Deny, Mr. Grinot?"

"Own up, own up. Big deal. I was just a kid. Let's get this over with."

"Subject seduced opponents' secretary and promised to marry her, in order to get information prior to a trial. She committed suicide a year later. Own up or Deny, Mr. Grinot?" She pointed that damned devil's tail pen at me, and I swear I could feel my heart contract, and I would break out in a guilty sweat.

It got worse.

I was no different from any other tort lawyer. We invested a lot in a case, and a big loss would have put us out of business. Sure, I had things I would rather not have done. Doesn't everybody?

Time is funny down here. Things seem to take forever, and things that take forever seem to be over rather quickly. The interview was of the former variety. But it was, finally, over, the faint Martini buzz long gone, and my expensive blue suit (I had been hit by a taxi while crossing the street after a trial), was now a soaked rag. The bar was empty, the chairs put up and we were still at the same table, alone.

"What now?" I managed.

LaFang tallied and compiled a few numbers. She looked up and down several pages, thumbed through a thick, dog-eared pamphlet, and finally spoke up.

"Mr. Grinot, you are not suitable for the lower levels of management here. You are not prone to violence, did not steal souls, murder, or kidnap children. You are simply a weak character with a stunted sense of ethics. As such, you will not gain much advancement here in Hell. The best you can do is to be my direct assistant, under my direct supervision, in Infernal Revenant Selection. This will be your assignment. You start immediately."

Eternity under the thumb of this bloodless harpy? I couldn't even think of it. So I did what I had to do.

I wrapped my hands around her skinny neck and strangled her. It took a while. She never struggled, but I swear I saw her lips form two words, "Thank you".

Someone came and took the carcass away. Apparently that kind of thing happens in Hell. What, you think you can go to hell and get the gift of indestructibility? And don't ask where they go from here. I can't tell you.

My new official badge reads, "Louis LaFang".

"Thank you." What did she mean by that?



Competition: Friendly feedback, Round 2
Reviews
The reviews for this submission haven't been published yet.