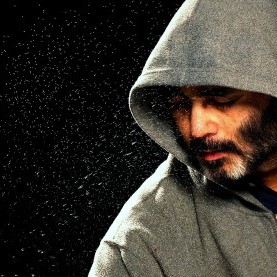 On the Third Day
Khalid is a stranger in his own city, unemployed feeling alienated, unimportant, he has long lost hope. But his life is about to change, he just proposed to the love of his life and he's about to take matters into his own hands. Time is running out and Khaled has only three days to accomplish his mission.
4
Literary fiction
---
The first day was like any other day. We are near the end of a sweltering summer, somewhere in Europe. The place is not of great significant, not today, on the first day of my story. Today is when I will tell Amina that I love her. I had made up my mind last night that if I only had three days then today has to be Amina's day. Tomorrow is for um Khalid, my mother, the only other woman in my life. And the third day is for my destiny. I had spent my last money in my account to buy a ring. I knew Amina was not the ring wearing type but the ring is important to me. It will be something that she can remember me for. Amina was studying art at a local community collage. She was passionate about art but was equally passionate about Palestine. Her father was a writer who was killed by the Israeli secret services, the Mossad. Her mother, who is also a writer, married again many years after the death of her first husband. That marriage only lasted one year. Amina would like to think it was because her mum could not love another man after her father. In truth, the marriage didn't last because her new husband became a radical and joined Hamas, her mum a devoted Fatah member could never accept it and immediately filed for divorce. Amina didn't like him in the first place. She, in fact, hated Hamas as much as she hated Israel and America. I too come from a Palestinian family but before I met Amina I was never interested in Palestine. Amina told me so much about the injustices that my people had suffered. She opened my eyes to what I knew in my heart. And so it happens that Amina became Palestine and Palestine became Amina and that is how I fell in love with both the woman and the homeland at the same time.

We met every night on the roof of our building. You Ask? Yes we are neighbors. We both lived in the same run down building in the poorest neighborhood of our European city. If you come here you would not know you are in Europe. Shops had Arabic signs, people spoke Arabic on the streets and there was more woman with headscarves than not. Amina and um Khalid would never wear scarfs, even when they were constantly hassled about it by the other women in our building. Every night after dinner I would go up to the roof to smoke, Amina would be there before me, drawing the cityscape at sunset, every night she would paint till the sun goes down. I was falling in love and I sensed that she liked me too but we never talked about that and I had a feeling that I would never be able to compete with her true love, Palestine.

When I gave it to her she was shocked, at first and refused it but I asked her to just take it as a token of friendship. I said I have no expectation, just love. I could see her tearing but she quickly regained composure and joked, asking me if she's allowed to sell it to buy art supplies. I said it's yours do what ever you want with it but not before three days. She paused, looked at me with those wide eyes and wanted to say something but I stopped her and pointed at the ring so she can read the inscription. It said 'on this day I give you the greatest gift of all.' It had the date of the third day.

After giving Amina the ring I couldn't sleep at all, I stayed awake until I saw the first rays of the second day rising. Today is Um Khalid day. Um Khalid, my mother, is a fighter but not in how you think, she never mentioned Palestine and refused to watch the news. Her sole interest was raising me and giving me a good education. She wanted me to integrate with society so she worked day and night and saved money for me to go to university, something not many of the people in our neighborhood did. Her dream was that I become a doctor and so I did. Poor um Khalid, it's breaking my heart to think of her tears. A mother's tears are so precious and this is not just any mother, this is um Khalid – ummi. I could hear um Khalid in the kitchen preparing the coffee. It was our daily tradition every morning we would have Arabic coffee and talk. It was our only time of the day when we get to sit and talk, our little ritual. Today for me this took a greater significance for it will be our last. Tomorrow morning, I will be across the border and um Khalid would have her coffee alone without me for the first time since I started having coffee at the age of fourteen. This morning Um Khalid was excited, she had met my future wife in the cake shop. She is a teacher, she told me. She had come to the shop the other day to buy a cake for her niece's birthday. My mum wouldn't stop but today of all days I didn't mind her talking. I wanted to be near her, hear her voice, smell her coffee, look deep into her eyes and say I love you ummi. I told her not to worry about this teacher, not now. I told her that I loved her. She looked at me quizzing and said:

Mansour, tell me what trouble are you up to?

Are you planning to marry that artist of yours?

This girl is trouble, stay away from her and stay away from Palestine.

You are a doctor and your whole future lays a head of you.

The last time you told me that you loved me you were ten, when you broke the neighbor's window, remember Mansour.

Doctor Mansour, you are up to something, you must tell me now?

I almost lost all my defenses and told her but then I regained my composure, I kissed her hand and got up and turned away before my tears betray me.

On the third day I had to wake up early before um Khalid. The sun had not risen up yet and the day was still a misty soft beginning. They had rented a car for me to go across the border and even though I hadn't driven in a while it took me no time to get in the swing of things. By the time the sun greeted the day I was far away from my building, from Amina, from um Khalid from my senseless past into something new, meaningful. The border was few hours from my house and the highway was empty. In the distance an infinite horizon seemed waiting for me. I was heading east and so the sun was rising in front of me as the far away horizon was being readied for a new day. I thought about my life, about my father, my brothers and my little sister. I only knew them by picture and we only had few pictures that were worn out. I was closest to my sister. In the picture she is wearing a white dress and carrying an old fashion clothes doll, I think she would have been 5 or 6 years old. My sister never grew older in my mind so to me as an adult I always thought of her as my baby sister. I stopped for a quick coffee and a chocolate croissant, I loved sweets and today I didn't have to worry about my weight and what to eat, I smiled laughing to myself at the thought. I also bought two packets of cigarettes intending to smoke them both by the end of today. Part of me couldn't believe how quick day three had come.

At the border crossing I was so calm and happy that the border police officer couldn't help it but to smile back at me. I'm now on my way to give the biggest gift of love to my two new found loves. It was the only way. How else can I reconcile life with what I know now, and who I am now, and who I was before I met Amina. I had followed all instructions given to me and was now on the gates of the embassy. Soon the third day will end and I would have fulfilled my promise, a promise that I had made to myself only three weeks ago on that rooftop, with Amina looking at her finished 'Far Away' painting with the far way city scape in the distance. Now I'm in another city, also far away. Tomorrow Amina will hear the news. I hope she will go and visit Um Khalid.
Competition: Friendly feedback, Round 1
Reviews
The reviews for this submission haven't been published yet.